Speed Cameras Catch 11 Million Motorists
The A31 autoroute catches out more motorists than any other motorway in France, according to recent speed camera statistics.
The motorway, which runs from the Franco-Luxemburg border down to Beane, figures no less than five times in the top ten list of the number of speed camera offences.
According to the magazine Le Point, which recently released the figures for 2010, one reason why it figures so highly is that on a number of sections of the autoroute the speed limit drops to 90kph, a change that is not picked up by the motorists.
This same characteristic of lower than normal speed limits on motorway sections also appears to be behind a high level of infractions elsewhere in the country.
In total last year there were over 11 million contraventions picked up by speed cameras on French roads, which resulted in nearly 5 million penalties.
It is in the departments of Essonne, Moselle and Nord that motorists seem to face the greatest risk of being caught.
Conversely, the low risk areas were Averyon, Creuse and the Lot.
Around 40% of the offences were committed by foreign licenced vehicles, which the authorities were unable to pursue, although that is in the process of change as the authorities plan the implementation of cross-border penalty systems.
The French government recently announced the withdrawal of warning signs ahead of speed cameras, although there remains some confusion about just how far they will go with this measure, due to opposition to the idea on their parliamentary benches.
Nevertheless, some prefets have acted quickly to remove the warning signs so the picture is a patchy one across the country.
As a concession to opponents of the measure, the government has agreed to speed message (radar pédagogique) at points ahead of all fixed speed cameras, although not at a fixed distance. In some cases, it seems the message may appear several kilometres ahead of the camera.
The following table shows the list of the top twenty flash points for speed cameras in the country.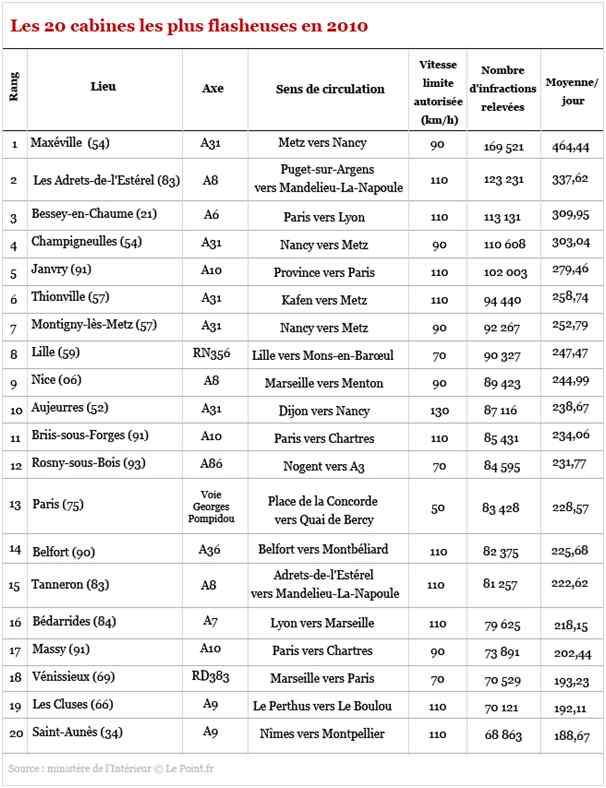 For the latest in-depth analysis, and access to a Helpline, subscribe to our news service at France Insider.
France Insider is a subscription-based offer which has replaced our previous free Newsletter.