Frog Chorus a Neighbour Nuisance
A couple have been ordered to fill in their pond, after neighbours complained of nuisance caused by croaking frogs.
The case concerned neighbouring property owners living in the village of Grignols in the Dordogne.
It is a highly controversial case that has been winding its way through the courts since 2013, having been initially been thrown out by the local tribunal, a ruling overturned by the court of appeal, which the French Supreme Court have now finally confirmed.
Such as been the interest in the case that an on-line petition was started in support of the couple, attracting nearly 125,000 signatories. Several 'Fête des mares' were also organised in the grounds of their property.

The decision of the court may well be regarded as somewhat surprising, given that French courts have frequently ruled in the past that residents must expect to have to put up with the normal inconveniences of living in the countryside.

Perhaps what was significant in this case was the size of the pond and its proximity to the complainant's property.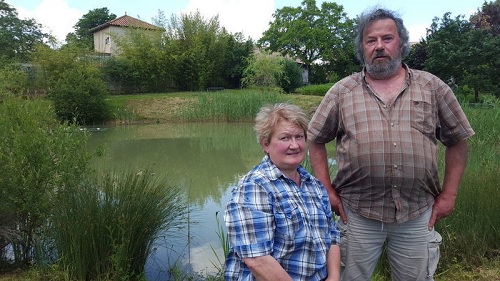 According to the court appointed expert, the pond measured 20 x 20 metres, it was around 1.20 metres deep, and located 10 metres from the boundary of the neighbouring property, with the house immediately adjacent to the boundary line.
Although historical records showed that there had, in the past, been a pond in the same location, it had been filled in by previous owners, only to be re-excavated by the current owners, who stated that the original pond had been even closer to their neighbour's property. The property of the pond owners was situated in 15 hectares of land, but it remains unclear from the hearing whether a pond could have been created elsewhere on the property.
The expert witness stated that the noise level created by the frogs during the mating period of April to July reached 63 decibels from an open bedroom window, a noise level that in an earlier decision the local tribunal had ruled did not constitute a nuisance.
The pond owners also stated that they had not themselves introduced frogs to the pond, which had occurred naturally.
The court gave the pond owners 4 months to fill in the pond, or face a daily fine of €150. They were also ordered to pay €3,000.
Although national planning regulations exist concerning the creation of ponds, they only apply in particular circumstances, eg larger ponds, proximity to watercourses, protected sites. However, departmental sanitary regulations normally require that no pond is created within 50 metres of a residential property and 35 metres of a watercourse. It remains unclear if they applied in this case.

For the latest in-depth analysis, subscribe to our news service at France Insider.
France Insider is a subscription-based offer which has replaced our previous free Newsletter.