One in ten homes in France is a second home, concentrated in particular areas of the country, and overwhelmingly owned by French nationals.

There are 2.5 million second homes in France and contrary to popular belief less than 10% are in foreign hands.



Of the circa 250,000 second homes in foreign ownership, around a quarter are held by the British, making them the largest group of international owners.


Not surprisingly, at a regional level the largest number of holiday homes in mainland France is located in sun-drenched Provence-Alpes-Côte d'Azur (377,015), swiftly followed by the winter wonderland of Rhône-Alpes (318,098).


However, in percentage terms it is Languedoc-Roussillon that takes the laurels, with 21% of all properties in second ownership, as can be seen from the following table.



Second Homes by Region


Region

No



% of Total

Alsace
18,823

2.4%

Aquitaine
169,425

11.6%

Auvergne
74,175

12.0%

Basse-Normandie
99,242

15.3%

Bourgogne
66,532

9.0%

Bretagne
186,372

13.0%

Centre
72,919

6.5%

Champagne-Ardenne
22,373

3.8%

Franche-Comté
30,968

6.0%

Haute-Normandie
36,097

4.6%

Ile-de-France
149,775

3.0%

Languedoc-Roussillon
249,134
20.9%

Limousin
43,297
12.5%

Lorraine
33,469
3.3%

Midi-Pyrénées

136,803

10.5%

Nord-Pas-De-Calais
51,254
3.1%

Pays de la Loire
165,815
10.7%

Picardie
36,184
4.6%

Poitou-Charentes
98,094
12.2%

Provence-Alpes-Côte D'Azur
377,015
17.3%

Rhône-Alpes
318,098
11.8%

Drill down an administrative level to the department and a more substantial degree of concentration in particular areas is evident.

The department with the highest percentage of properties in second ownership is the Hautes-Alpes, where 45% of residential properties are second homes, mostly of course ski chalets or apartments.
That is also the main explanation of why the mountain departments in France have a comparatively high number of holiday homes - Savoie (38%), Lozère (32%), Alpes-de-Haute-Provence (31%), Pyrénées-Orientales (29%), Ariège (25%), Haute-Savoie (24%), Hautes-Pyrénées (23%) Creuse (20%), and Cantal (20%).
Other departments with a sizeable percentage stock of second homes have a more canicular basis for their attraction as holiday homes - Var (26%), Aude (26%), Vendée (25%), Alpes-Maritimes (23%), Charente-Maritime (22%), Landes (21%), Hérault (19%) and Lot (19%).

The following graphic gives a pictorial representation of this distribution, with the darker colours indicating those departments with the highest percentage of second homes.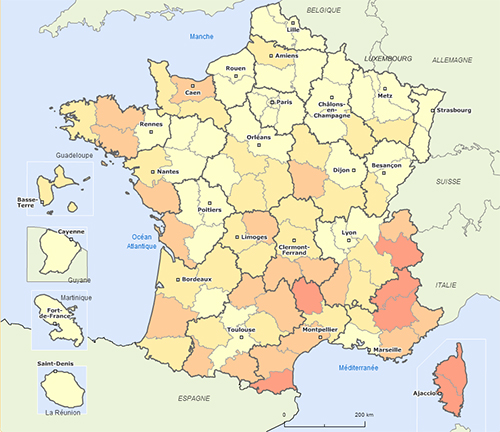 Source: Insee